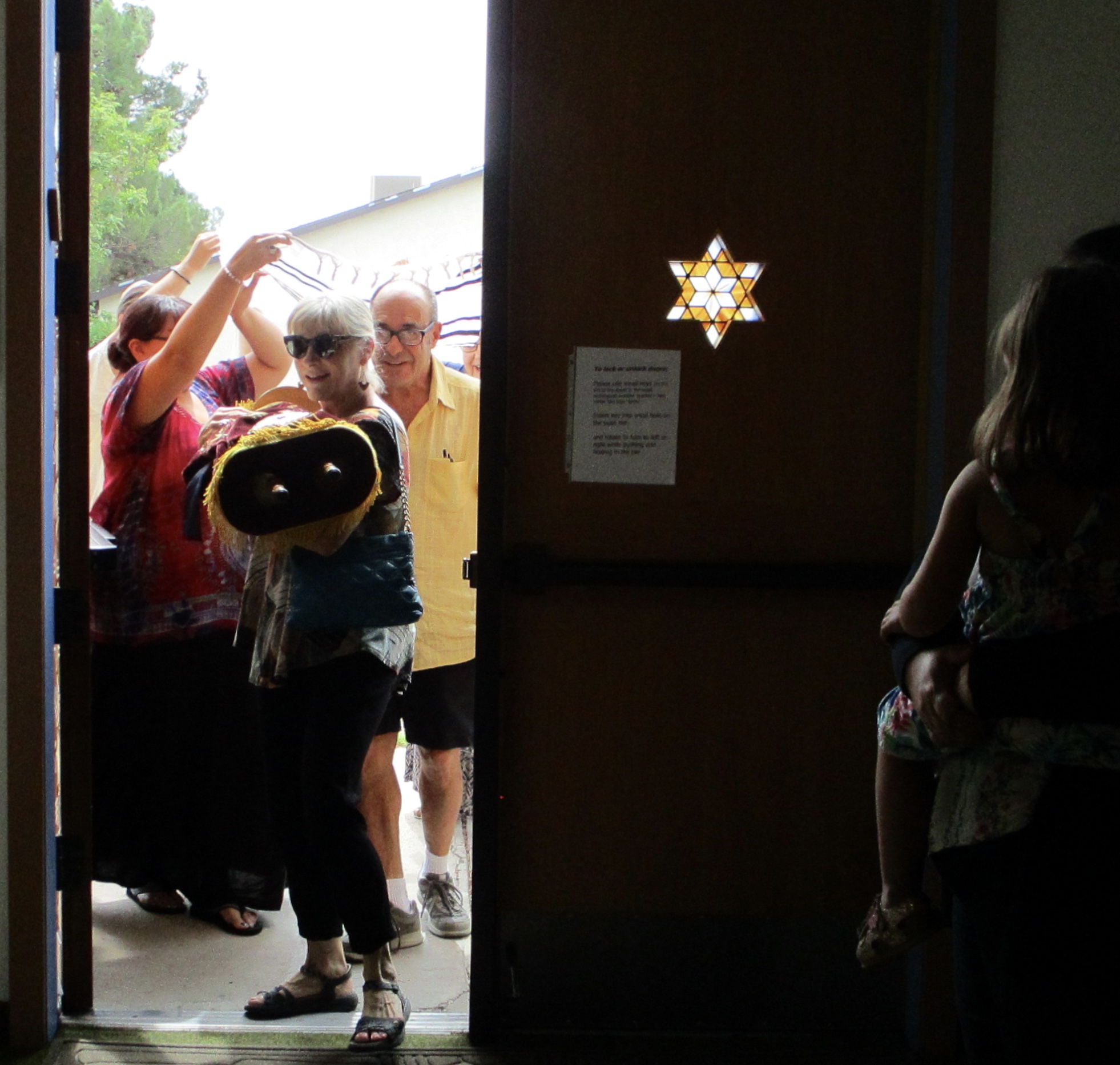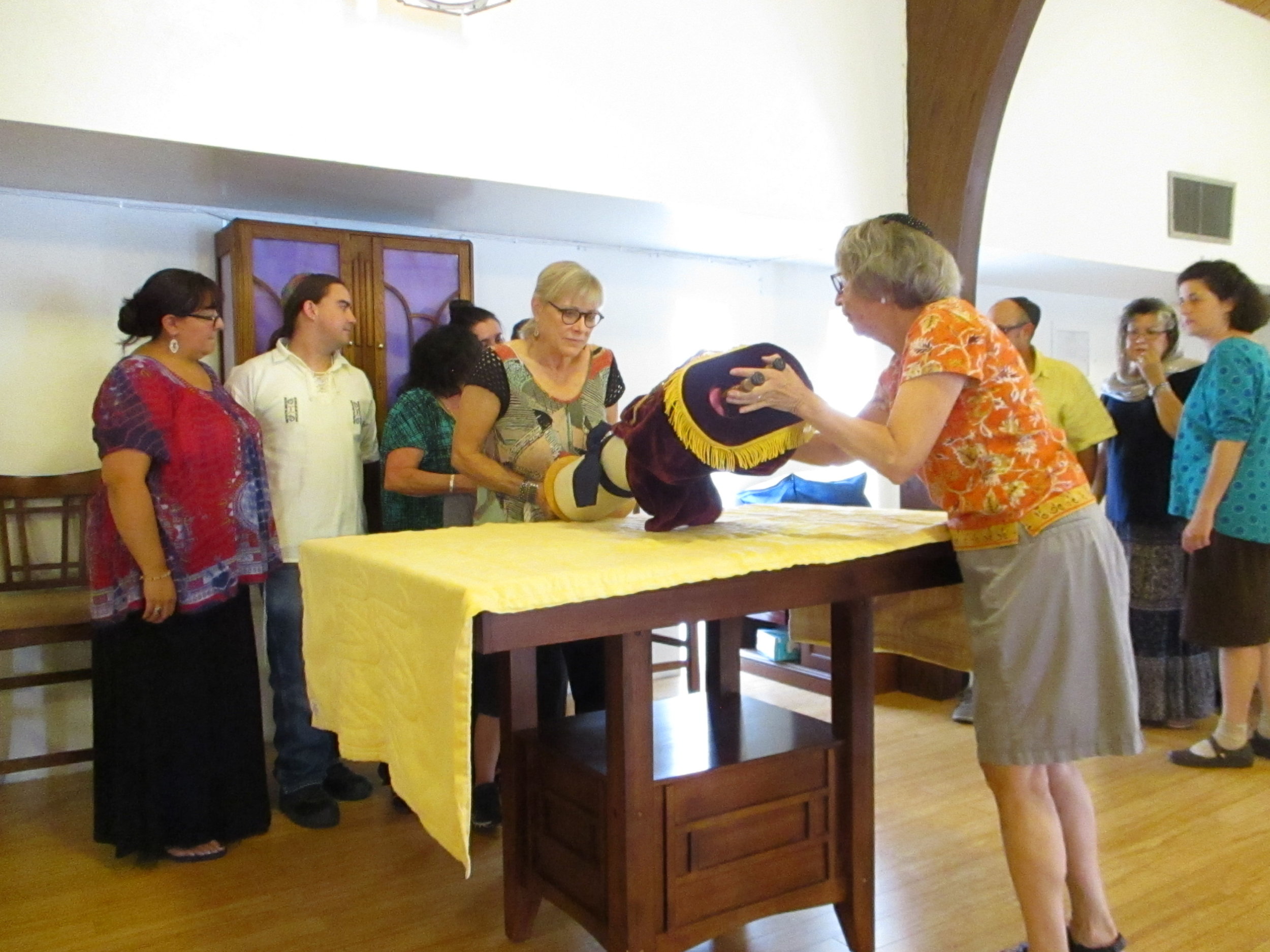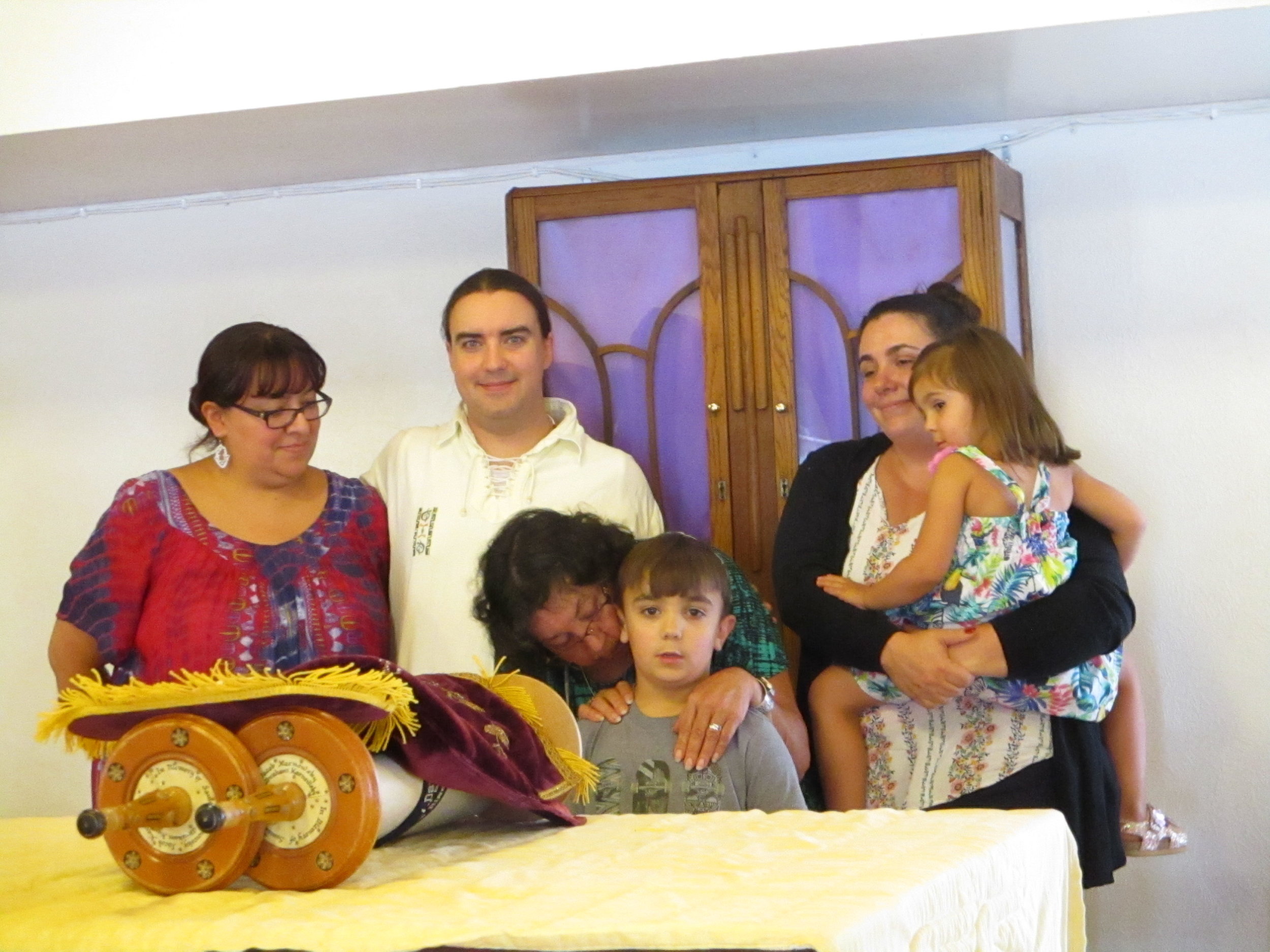 Text reprinted from "the Voice of Va'ad" August 22nd E-news. Photos of the Karnowski family on the bima with torah by Nahalat Shalom member Robin Berman
The Torah is at the heart of every synagogue. Nahalat Shalom has two scrolls. One is a special Torah, which was rescued from a small town in Czechoslavakia during World War Two. We use this Torah only occasionally because it is too fragile to be used regularly for services. But we care for it; it is holy and is our memorial to those who were killed in the Holocaust. Those of you who have read from our second Torah know that in some places the ink is fading and the parchment is fraying. It is no longer kosher.

What is a synagogue without its Torah? It is a symbol of Jewish history and of our mitzvot, our commandments, that tell us to honor each other, to be good stewards of the earth, and to hold the Divine close to us. So what do we do? Start a fundraising campaign? Buy a Torah on E-bay or from Amazon? Go without? Or maybe something wonderful will happen!

One day, Glorya Hale told her friend, Kathryn Karnowsky, about the problems with our Torah. Kathryn, one of our members, then told her about the Torah that belonged to the Roswell synagogue and had been donated to them by her uncle. The Jewish community in Roswell had dwindled. They had sold the building that housed their synagogue. The Torah was to be carefully stored in a bank vault.

Glorya got in touch with Rabbi Min Kantrowitz who, in the past, had led services at the Roswell Synagogue. Rabbi Min contacted some of the remaining members of the synagogue - and they have agreed to loan, indefinitely, their Torah to Nahalat Shalom.

We will use the Roswell Torah at our High Holiday services and we have invited the remaining members of the Congregation of Roswell to be our guests. At Simchat Torah, Monday, October 1, Rabbi Min will do a special dedication of the Torah, share this amazing story, and we will welcome the Karnowsky family and our friends from Roswell to join us at this joyous celebration.
Chazak Chazak V'nitzchazek - Be Strong, Be Strong, Let Us Be Strengthened
Emet Ma'ayan, President, Nahalat Shalom Va'ad